We are confident that you will enjoy your experience with your windows and patio doors. It is important for you to know that Ply Gem manufactures and warrants your windows and doors and that, as a consumer-purchaser, they will respond to notice from you regarding any product concerns according to the warranty.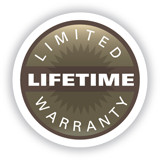 The Lifetime Limited Warranty Promise:
For as long as you own and reside in your single-family home into which your windows or patio doors were initially installed ("Lifetime"), upon notice from you as required in the warranty, Ply Gem will, at no charge to you, provide components needed to correct any of the following conditions if it is directly caused by a defect in the product as manufactured as determined by Ply Gem [and has resulted in a significant impairment in operation and usage]. Exclusions do apply.
The below is a summary of your coverage:
Vinyl Components: Chipping, cracking, peeling, pitting, blistering and corrosion, under normal use and proper care.
Insulating Glass Unit (IGU): Condensation on the inner glass surfaces due to a failure of the IGU seal.
Glass Quality and Breakage: Glass stress cracks, scratches, and spots for two (2) years from date of manufacture.
Hardware and Insect Screens: Failure or breakage of locks, balances and handle sets under normal usage. Failure by deterioration of insect screens or frame.
Transferable: If the Owner sells or otherwise transfers the home before 25 years has elapsed after the date of product installation, Ply Gem will automatically extend full coverage under this warranty to the first subsequent owner, and any later owners, until the 25th anniversary of the product installation.
The above is a summary of your warranty. Exclusions do apply.

Click here to download a registration card and full warranty.