Contractor Series windows are available in two colors:
White Interior with a White Exterior
or
Beige Interior with a Beige Exterior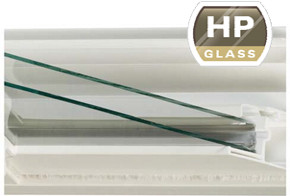 High Performance Glass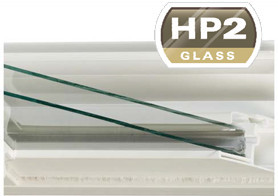 High Performance 2 Glass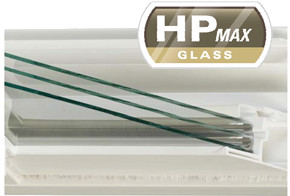 High Performance2Max Glass

Dual Pane Insulated Glass:
Dual pane insulated glass consists of two panes of glass that are sealed together resulting in one dead air space in between the glass – the dead air space is an insulator. Our overall insulated glass measures 7/8" thick. A dead air space between the glass of at least 3/4" is optimal for allowing air to act as an insulator. Any dead air space over 3/4" does not provide more insulation. Having dual pane glass greatly reduces heat and sound transfer.
Triple Pane Insulated Glass:
Triple pane insulated glass consists of three panes of glass that are sealed together resulting in two dead air spaces in between the glass. Triple pane glass reduces the heat and sound transfer more than dual pane insulated glass.
Low-E:
Low-E stands for low emissivity. It is a very thin metallic coating that allows the sun's light to pass through the insulating glass, but, at the same time reflects radiant heat back toward its source. It helps keep your home warmer in the winter by trapping radiant heat in your home. And it helps keep your home cooler in the summer by blocking radiant heat from entering your home. The low-e glass provided in your windows results in minimal visible darkening which has been a common problem with some low-e glass. Also it minimizes interior glare, reducing eyestrain and making it easier to watch television or look at a computer screen when bright sunlight fills a room.
Argon Gas:
Argon is a nontoxic, nonreactive, clear, and odorless gas . It is put in the air space(s) of your dual and triple pane insulated glass. Argon gas is less heavy and slower-moving than air and thus minimizes convection currents within the dead air space. Conduction through the gas is reduced, and the overall transfer of heat is reduced.
Warm Edge Plus Spacer:
The panes of glass in dual or triple pane insulating glass are held together by a spacer. The spacer runs along the entire perimeter of your insulating glass. The edge of the glass is the coldest part of any window. So the spacer is very important. The Warm Edge Plus Spacer System reduces thermal transfer at the edge of the glass by utilizing a unique U-shaped channel to separate the glass panes and interrupt the natural flow of heat to cold. It flexes with glass expansion and contraction to ensure a strong seal for the life of the window.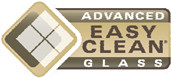 Optional Advanced Easy Clean® Glass is a remarkable advancement in glass design that eliminates frequent exterior window cleaning. Windows and doors with special Easy Clean Glass require less effort to clean than windows with ordinary glass.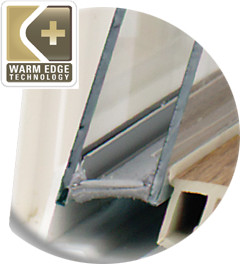 Minimums and Maximums


Double Strength standard for Glass UI over 80 inches

Unit Calculations
Glass Width
=

(

UW / 2) - 3.125"
Egress Width
=

(UW/2) - 4.625"
Daylight Width
=

(UW/2) - 4.375"
Daylight Height
=

UH - 6.5"
Contractor:

Product:

No complaints. There is absolutely nothing you could improve upon!
M. Thomas
Contractor:

Product:

Caulking around interior of windows not smooth. But we would still recommend you.
Christ United Methodist Church
Contractor:

Product:

Service was great and windows look real nice.
M. Clark
Contractor:

Product:

Had to reschedule several times. Installer not good at returning phone calls. My renter and his mother love the new windows and so do I. They did have one bit of info I found troubling, the guy who put in the windows talked terrible to his helper. He acted like he hated him. Mom felt sorry for the guy. I wasn't there for the install - but my other tenants are 20 year friends so I'm prone to believing what they experienced was true.
C. Hawk
Contractor:

Product:

These are the best windows I have ever had. They don't sweat like other windows.
S. Warren
(This customer also purchased Up & Down Windows)